Why Choose Us?
---
Melissa A. Maus, DDS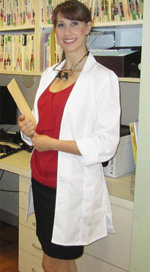 Dr. Melissa Maus received her Bachelor of Science and Doctor of Dental Science degrees from the well-known and highly regarded University of California Medical Center in San Francisco. She continues to further her education and stay current with the latest dental advances and technology by taking continuing education classes annually. She has lectured nationwide to various dental groups on comprehensive dental care, treatment of the phobic patient, and sedation and hospital dentistry.
Prior to entering dental school, Dr. Maus worked in a dental laboratory for over five years. This experience has allowed her to uniquely interface with her own dental technicians and deliver excellent esthetics and functionally sophisticated dental prostheses.
Along with general and cosmetic dental services, Dr. Maus has successfully treated patients with special needs for over a decade. These patients have included: developmentally, medically and/or physically compromised patients; patients with dental fear or anxiety; patients with over-reactive gag reflexes; and patients with time constraints who opted to have all their necessary dental treatment completed in one or two visits. Dr. Maus' many memberships and affiliations include the American Dental Association, California Dental Association, and the San Francisco Dental Association.